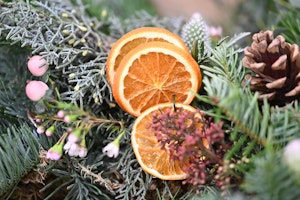 Our popular wreath workshops are back for Christmas 2023. Hosted again this year by local florist Anna of Folly Flowers you will be shown step by step how to make a beautiful festive wreath.
An opportunity to get creative, have fun and and make something truly personal to adorn your front door.
All materials are hand selected and include a sustainable reusable moss based wreath together with seasonal foliage, berries and decoration.
Workshop spaces frequently sell out, so book early to avoid disappointment.
The event takes place between 6pm and 7:30pm.
Prices £65 per person.
Dates & Times
14/12/2023 - 15/12/2023